Arkansas Epics

Fabulous floating, heart-pounding paddling—all in the Natural State
By Jeremy Mackey and Michael Roberts
When it comes to paddling in the Natural State, diverse opportunities abound. From the fast-flowing waters of the Ouachita and Ozark mountains to the calm, soothing streams and lakes of eastern Arkansas, there's something for just about any taste, skill level or style. For over 20 years, outdoors enthusiast Jeremy Mackey has been sharing his passion for the lakes and streams of Arkansas. Here, the paddle guru takes us across the state to share his picks for top epic float trips for singles and families alike.
SPRING RIVER GPS: 36.3035795,-91.8638287
Fun without being fearsome, the Spring boasts a nice combination of flatwater along with class I and II rapids. Paddlers can make a leisurely day out of the trip, then head over to the town of Hardy for fun shopping and family activities.
BAYOU DE VIEW WATER TRAIL GPS: 34.9036461, -91.2678999
In 2009, the Arkansas Game and fish commission began work on the Water Trail System. While all of these trails offer paddler's the opportunity to explore one of the state's least known, but most wild and diverse terrain. Bayou de View, located east of Little Rock, winds through the bottoms of the Sheffield Nelson Dagmar Wildlife Management Area—a serene landscape of massive Cypress groves and a seemingly infinite abundance of wildlife.
BUFFALO NATIONAL RIVER GPS: 36.0472217, -94.026826
Arguably Arkansas' most recognized and much-beloved rivers. This free flowing 135 mile long gem located in the Boston Mountains/Ozark Plateau draws people in from all over the world to paddle. This wild and scenic river offers paddlers of all skill levels trip lengths carrying from a short day to multi-day expeditions. The rich history and stunning sedimentary bluffs will take your breath away as you while away a lazy day.
LAKE OUACHITA GPS: 34.6159281, -93.6462287
Located west of Hot Springs, in the heart of the mountains of the same name, lies Lake Ouachita, a touring kayaker's dream come true. Boasting over 700 miles of undeveloped shoreline and innumerable islands to camp on, the largest lake in Arkansas will surprise and inspire time and again.
COSSATOT RIVER GPS: 34.2938191,-94.1796357
For experience paddlers looking for a classic whitewater experience in the Ouachita Mountains, look no further than the Cossatot River. "The Skull Crusher" is a river with a personality all its own. The upper reaches, within the Caney Creek Wilderness Area, offer a more mellow float with abundant fishing. From the Ed Banks access the Cossatot becomes a Class III-IV river that's sure to impress, climaxing with a series of Five Falls at the takeout.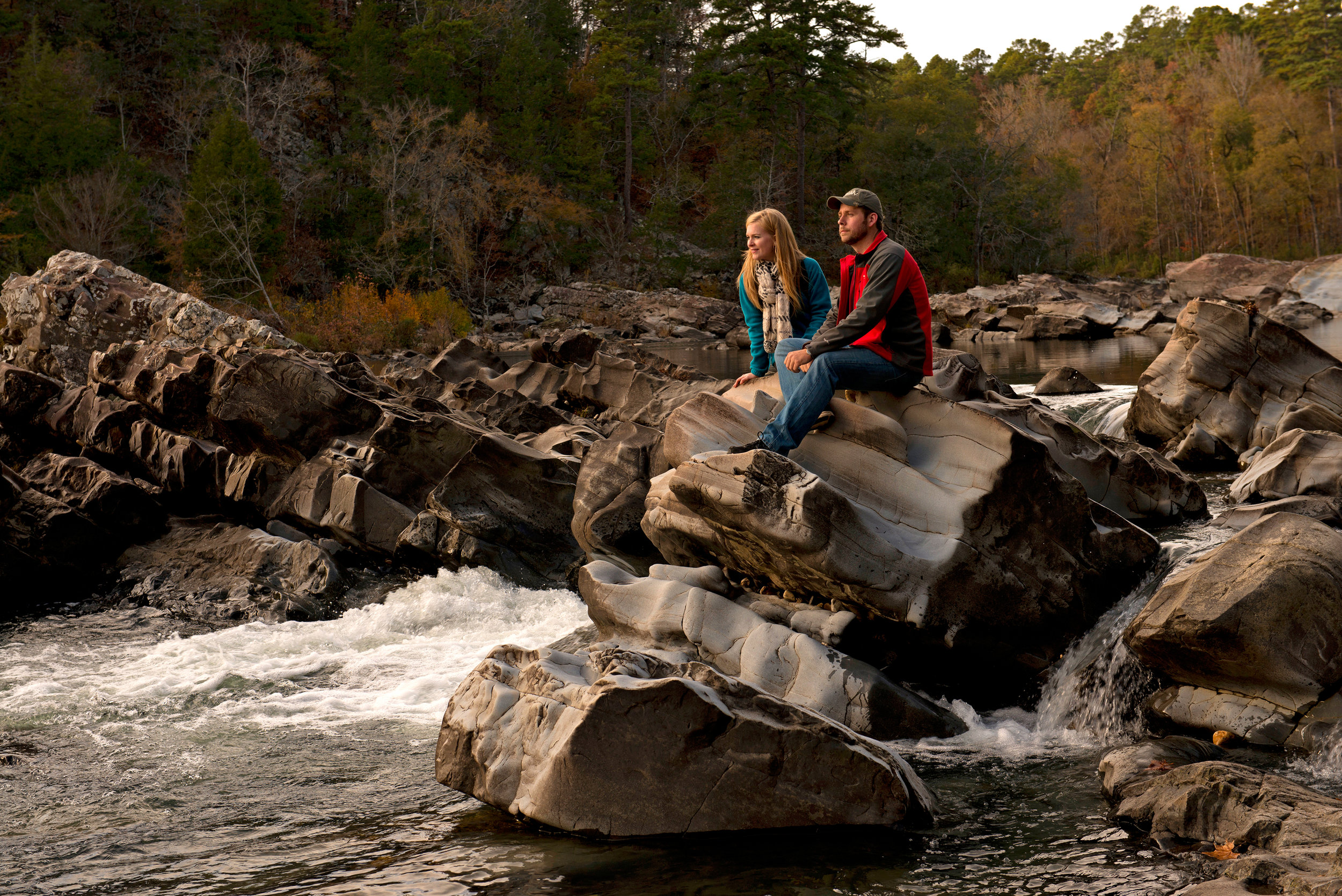 "No matter the weather or water level, it's always sunny at the 'tot!"
—Jeremy Mackey